Every website requires forms, as these are integral towards achieving an effective communication between the visitor and the blogger. The problem with forms is that they are not too friendly for those who are unable to code. Not all bloggers can whip out the perfect code for forms and if you are one of them, you surely want to skip the coding part.
Fortunately for you, there are a number of plugins that will do the work for you. Since you want a form for your website, you can definitely find one in WordPress.
Forms are essential especially if you are an online business owner who depends on customer feedback. Your customers and the interested individuals need a way for them to reach out to you. There is no better way to do that than with a simple and easy to understand form. With your WordPress blog ready, here are the top plugins that you can use to create contact forms and other related forms that will help expand your business:
With Ninja Forms, you leave the programming to the programmers since all you have to do with this WordPress plugin is to drag and drop. The interface is quite interesting because it does look like it's included in your WordPress dashboard. Ninja Forms is one of the feature-packed plugins for forms in WordPress with the best qualities outlines below:
Make a form appear exactly how you want it with fully customizable CSS.
You can generate any input, even those with restrictions, by simply using filters from the settings page.
Say goodbye to bots that fill out your form and pretend they are real humans. You can prevent spam with the integrated spam filter.
If you wish to keep the submissions made by people in your website, you can download them and open the document with MS Excel.
Not all your visitors know what to enter in the field. You can assist them virtually by means of showing help text on any field you want.
You can send an auto-generated email once the user successfully registers into your website. What's unique about this feature is that you can customize the email address that you will be using when sending the automatic message.
Put required fields and do not let the user bypass the form-filling process without inputting items in those fields.
There are so many other features from Ninja Forms, but the only way to try out its efficiency is through downloading and installing it. Don't worry, it's a free plugin.
If you are looking for a comprehensive tool that will help you manage several contact forms in your blog, Contact Form 7 is a plugin you can try. Aside from managing your own forms, you can create a new form according to how you like it and not the native form provided by WordPress. Whenever the user enters and registers, you will receive an email so you can save the contents of the form.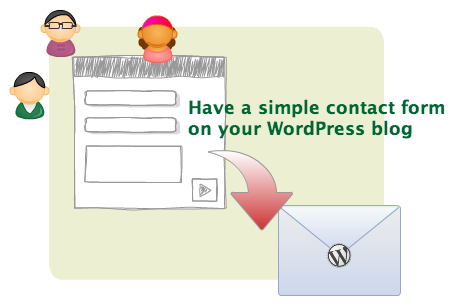 Contact Form 7 comes with support for AJAX form submission, Akismet anti-spam filtering, and CAPTCHA. Some bloggers may find the interface a bit confusing, but there is no need to be concerned about this. The plugin has a full manual so everyone will know what to do and what they can do with this exceptional plugin for WordPress websites.Probably what sets this plugin apart from the rest is that it contains translations for various languages. There is a long list of supported languages found in its WordPress download page so even the non-English speakers can use this plugin.
Some plugins for WordPress forms are smart and intuitive, but they lack one thing: visual appeal. This is where Visual Form Builder takes over. If you are looking for a WP tool that will help you create stunning forms and not the boring ones that you commonly see in blogs, this is the tool to turn to. What's great about this plugin is that you can produce those attractive forms without the need to write the code for them in PHP, HTML, or CSS.
Some of the highlights of this tool include:
Dragging and dropping of fields to put them to order or reorder them according to your liking
Uses anti-spam system so all contacts are humans and not spambots
Add fields that your form requires with just a single click of the mouse button
Automatically retrieves the form entries submitted by your customers into your WP database for easy access later
Uses jQuery validation
Download the forms into CSV format
Different types of fields available including standard, required, radio, checkbox, and currency among a ton of others
The free version is downloadable via WordPress, but if you wish to take the form creation to the next level (with some cash to spend), you can go pro. Visual Form Builder Pro is available for download at the developer's website. It's not that expensive, but if you do not want to shell out some cash, you can always download the free plugin.
Formidable Pro
If you think that most plugins that bear the name "pro" are paid, you are right with Formidable Pro. It will cost you money if you choose to install this as your plugin for forms for your WordPress website.
However, this is one of the most value-for-money tools that you can ever have. If you want full control over your forms on your website, but you demand simplicity in doing all the necessary and optional form management tasks, this is a great plugin to consider using.
Formidable Pro is not your ordinary plugin as it comes with several features that will not only help you in creating forms, but also in handling submissions and displaying content. You can use this plugin to build any type of form you want in just a few seconds. All that you need to do is drag, drop, arrange, and place your fields and you are good to go.Once again, there is no need to learn HTML coding or CSS because you can do whatever you want and achieve the look you want for your site's forms.
Formidable Pro has numerous settings that you can access so that the forms will act according to what you have in mind. For instance, you can limit the appearance of forms to users who are logged in to your site only. You can also use this app to enable editing from the users themselves in case they misspelled a few words or they just had a change of mind. Again, this is not free, but it comes with a 30-day money back guarantee in case you are not happy with it.
If you do not mind spending on plugins for the enhancement of your website, Gravity Forms is a must-try. It is a highly rated plugin in WordPress and continues to have many happy users. As a matter of fact, it has received over 500,000 downloads, making it one of the most downloaded form plugins in WordPress.
Gravity Forms is just like the other abovementioned plugins where you can publish your forms in just a few moments. It is easy to customize and actually does not require you to do hard, menial tasks just to modify your own settings for the plugin. With this plugin, you only need to perform the following steps:
Select the fields you want to include in your form.
Configure the settings for every field.
Embed the form into your WordPress website using the plugin.
That's it, you're done. It's fast and easy – but it's not free. Prices start at $39 for personal blogs but if you apply a discount for Gravity Forms, the price can be drastically reduced.
It's true that not everyone wants to pay for a plugin. If you are looking for one that will not cost you anything, here is something that you should try. The plugin for WordPress called Fast Secure Contact Form pretty much sums up what it offers to the users. It is customizable and you can do this unbelievably fast. At the same time, you do not have to worry about spambots and even human spammers because this plugin will block them all out.
Fast Secure Contact Form will not ask you to configure templates. What this basically does is that is creates a contact form to your WordPress powered website and you will immediately receive an email coming from that user. The form plugin also allows them to request for a video or voice call. If you are interested in creating your own form design, the plugin permits you to do so. Unlike other "free" plugins, there is no limit in the number of forms you can create so there is no need to upgrade to premium.
You're probably asking now why there is a need for you to use any of these plugins. After all, you can just stick to the basics and use the native form from your WordPress template. If so, you do not know that a form plugin can do wonders for you especially if you are running an online business. The plugin you use along with a winning form design is the key to a much better interaction with your present and future clients.